RJ is a 1 ½ year old red heeler that was rushed to our clinic after being hit by a car. He was given pain medications, treated for shock and stabilized. X-Rays were taken and showed he had a fractured femur in his left hind leg. RJ and his owner, Mark, are best friends. RJ goes everywhere with him, sitting along side in the pickup. Mark didn't want to lose him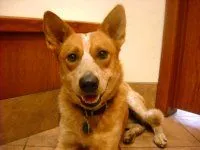 so surgery was performed to repair/pin the broken leg.
After surgery, RJ stayed at the clinic for a week, because he is usually such an active dog and constantly on the go. He needed to stay calm and not try to use his leg initially to let the bone heal. RJ stayed at the clinic, rested like he was supposed to and won over all the technicians that cared for him. After a week, RJ went home to continue healing. Mark had to keep him confined which was hard on both of them. RJ visited us for bi-monthly rechecks on his leg to monitor his progress and discuss any concerns Mark may have had. All the staff had grown to love RJ and looked forward to seeing him at his visits.
RJ had his last official visit concerning his leg. The pin has been taken out of the bone and his stitches all removed. Mark says RJ continues to heal and get stronger everyday. He appreciated how everything was explained, whether good news or bad news and all that was done for RJ.