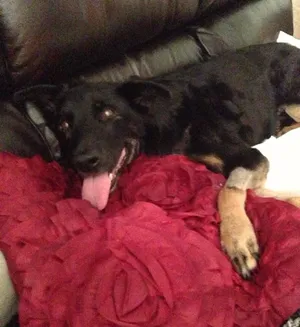 Arthur, a German Shepard Mix, was brought into our clinic March 11th not being able to walk or lift his head. Ashley called Perkins Veterinary Clinic very concerned about his condition and we told her to bring him up right away. Ashley said that when she came home from work the day before she noticed Arthur having trouble walking and that his condition got worse over night. Soon he could not walk at all and he couldn't even lift his head off the floor. He is her baby and he is 11 years old and of course she is thinking the worst. Dr. Charette examined him as soon as he came in. Within minutes he diagnosed Arthur with a slipped cervical disc, a rare problem in dogs his breed and size. Dr. Charette started IV medicine to try to relieve the spinal compression that was causing his paralysis. Arthur started to lift his head some but seemed to still be in some severe pain.
On March 13th Arthur still hadn't improved much so Dr. Murray knew he needed surgery. Dr. Murray quickly referred Ashley to take Arthur to a specialist in Oklahoma City. The next day, the surgeon performed a ventral slot, which is surgery to relieve pressure on the spinal cord caused by disc rupture. The surgeon warned them that because of Arthur's age and severity of his injury, his recovery might take longer than normal.
When Arthur first went home he still couldn't move very much. Ashley had to stretch him, turn him over, and carry him outside several times a day. On March 24th Ashley had to return to her normal life and go to class and work so she brought Arthur in to Perkins Veterinary Clinic to stay for the day while she was not able to be home. Monday through Friday for a couple of weeks we took care of Arthur's needs. We did his physical therapy, turned him over when he was ready to move, and carried him outside several times a day. Arthur had a special bed made for him in the treatment area so that everyone could keep a close eye on him and now when he needed something. We would hold the water bowl for him and give him several treats a day to keep him busy in between naps.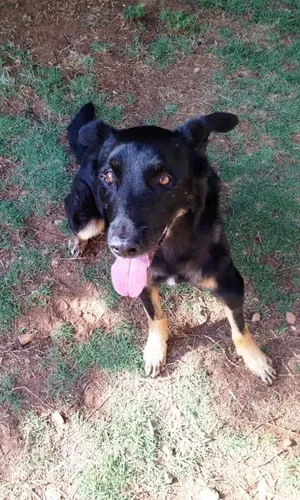 Arthur's progress was very slow and sometimes very frustrating to Ashley. Most dogs are walking in 2-3 weeks after surgery, and with every passing week he didn't get up, his chances of walking again got smaller. This clinic staff never gave up on him and continued to work with him each day. Eight weeks after surgery, Arthur finally took his first steps. Ashley says "Thanks to the help of Perkins Veterinary Clinic and a wonderful rehab team at OSU, he has regained 90-95% function and is a healthy, very happy dog again. The only downside is that he is a little spoiled now from all of the attention and treats he got at the clinic! This was a very scary thing to go through, so I am grateful for Dr. Charette's quick diagnosis and Dr. Murray's referral to a great surgeon! I am especially appreciative of all the TLC that all the staff gave Arthur in the months after his surgery."
Arthur is now playing and being a normal dog again, he even tries to run sometimes. We are so glad to have our Arthur back!