Perkins Veterinarians Keep Your Animals Healthy and Active

Welcome to Perkins Veterinary Clinic, serving the Perkins, Stillwater and Cushing communities. Our veterinary clinic provides a full range of services for animals of all sizes, including horses, cows, dogs and cats. From microchip identification and vaccinations to advanced orthopedic surgery and equine dental care, our talented veterinary team is committed to keeping your animals healthy and active.
Perkins Pet Hospital Provides Wellness and Emergency Care for Horses, Cattle, Dogs and Cats

Our veterinarians, Dr. Wendy Murray and Dr. Taud Charette, are committed to providing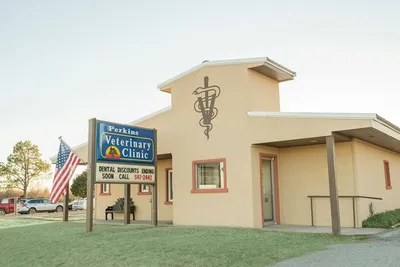 your pets and animals with the best possible veterinary care. Our veterinary team boasts some of the best technicians and care assistants in Oklahoma! Our technicians are all true animal lovers who frequently foster animals or care for their own adopted pets, including horses, cats and dogs. Their natural passion for animal care shines through in everything our veterinary team does, and your pet will truly feel the love here.

Our veterinary clinic believes that prevention is the best medicine, and we have a special focus on providing outstanding preventive pet care. We encourage all pet owners to bring their dogs and cats in for an annual wellness exam. During this time we will perform a full physical and ensure your pet is up to date on all vaccinations. Many vaccinations, including rabies, distemper and kennel cough require annual boosters. Our veterinary staff will also perform a heartworm tests and intestinal parasite fecal examination. Our in-house laboratory ensures our veterinarians have immediate access to accurate diagnostic results. With regular preventive pet care, our veterinarians can detect and treat medical conditions before they become serious health problems for your pet.

Even with the best preventive care, we know emergencies happen. Our pet hospital and veterinarian provide outstanding emergency care services. In the event of an emergency, bring your pet directly to our pet hospital - no appointment required. If possible, give us a call while you are on the way so we can have our veterinarian ready to assist upon your arrival. Our animal clinic offers general and orthopedic surgery, ultrasounds and x-rays to help diagnose and treat your pet during a health emergency. To learn more about how our veterinarian has helped pets like Bali (a Chinese Pug mix with diabetes) and Burnie (a cocker spaniel mix with an immune system disorder) recover from serious health emergencies, visit our "Miracles" page. Our veterinary staff is thrilled to witness health miracles every day!

Our animal clinic provides bovine and equine care for the Stillwater and Perkins communities. This care includes bovine semen evaluations, castrations, lasceration repairs and equine dentistry. Equine dentistry is especially important to your horse's health. Many cases of colic, behavioral and medical issues can be traced back to dental problems such as equine TMJ. Dr. Murray and Dr. Charette have substantial experience in bovine and equine care, and will help keep your animals healthy.

Our veterinary clinic makes it easy for pet owners to give their pets the best care possible. Our drop-off policy allows pet owners to drop off their pets for an appointment, run a few errands, go to work, and then come back at the end of the day to pick up their pet. There's no need to waste time waiting for your pet's appointment!

Our pet hospital is conveniently located to serve the Stillwater, Perkins, and Cushing communities. Call us today at (405) 547-2442 to schedule an appointment.